An Amputee Afghan boy, Wounded in the War, Dances on a new Prosthetic Leg
The six-year-old Ahmad Sayed Rahman is our little hero that has recently been viewed by millions on the internet after I published his dance video on my Facebook account, which was soon published on many more platforms like abcnews. We didn't know his cheerful and bubbly character will make millions of people across the world smile and happy.
Ahmad Sayed Rahman was struck by a bullet in his right leg in a crossfire between the Afghan National Army and the Taliban at the age of 2 and he resides in the Logar province of Afghanistan. I still remember training him to walk when he got his 2nd and 3rd prosthetic leg at the ICRC.
He belongs to a poor family with seven other family members. Ahmad's mom mentioned that her husband does farming for a living and he often borrows money to bring Ahmad for his appointments at ICRC Kabul.
Ahmad was usually seen in pain before his last prosthetic leg. They could not afford to come from Logar to Kabul for his every 3 months scheduled appointments.
Due to his growth and incapability to show up for his 3 to 6 months appointment, his old prosthetic leg would start hurting him and leave him with blisters.
I have seen Ahmad happy and cheerful, after installing his fourth new prosthetic leg, he volunteered to dance and show his joy as seen in the video I shot on May 4th, 2019.
I am Ahmad's physiotherapist and we take care of his leg alignment, and teach him how to adjust with the new prosthetic leg. I have always seen Ahmad greeting other patients and doctors. Whenever Ahmad sees me he runs towards me and holds me by my leg, calling me "Doctor" and smiling until I pick him up and hug him. His naughtiness and friendly behavior make him stand out among our other patients, and we do miss him a lot in between his visits.
Ahmad Rahman loves dancing, singing and playing soccer. I have seen him sing and dance when there is no music. I initially noticed his passion for soccer during his physiotherapy sessions with me, where he was seen playing with the ball all day long. I have not seen a happier kid around a ball than Ahmad. I have also witnessed the same smile fade away when he saw other kids playing in the ICRC gymnasium and he could not join them.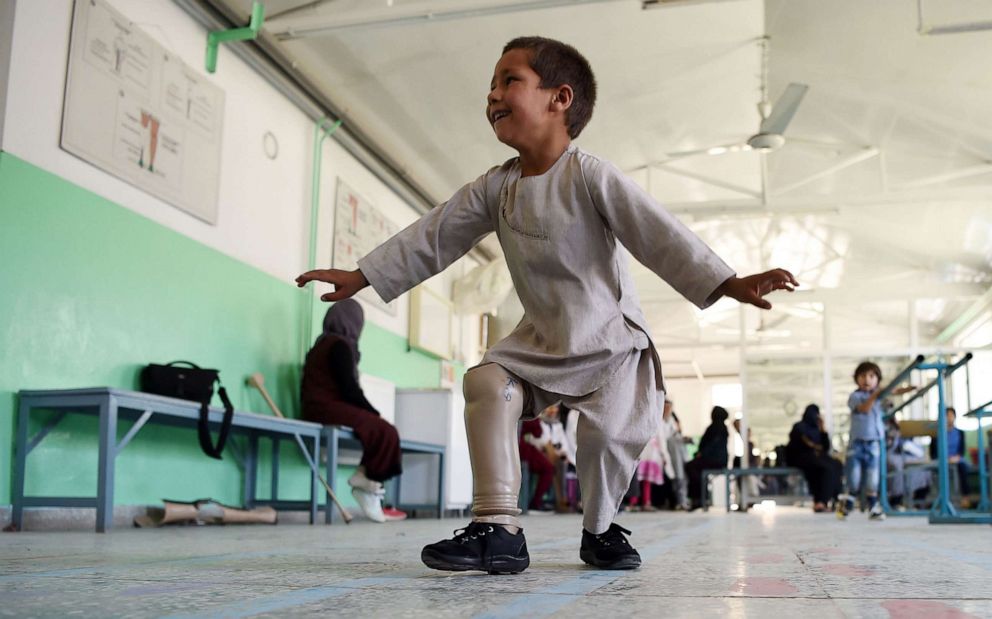 Wakil Kohsar/AFP/Getty Images
Ahmad comes from a poor family and they can not afford to send him to the gymnasium for playing soccer and neither he goes to school yet. Ahmad's parents say, " We tried to admit him into school in Logar, but they did not accept the admission since Ahmad is an amputee, and in case of an emergency situation he won't be able to run away." she further added, "we are very hopeful that after getting his new prosthetic leg, he will be able to join school soon.".
As Ahmad's physiotherapist and many more other kids just like him at the ICRC, I would like to add and get the message across that: "They can destroy our bodies but they can not kill our spirits. They can make me an amputee but they can't stop me from dancing.". Let's end these wars and let these beautiful kids live at peace.
Ahmad will always remain a shining star and keep making us smile forever.